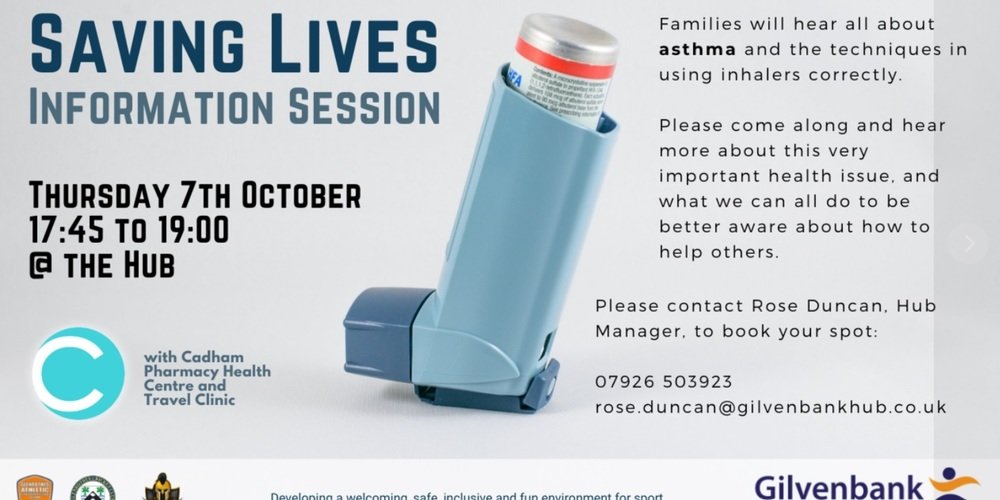 Saving Lives - information session about asthma
Thursday 7th October
17:45 to 19:00
Gilvenbank Hub
Event details from Berni at Cadham Pharmacy Health Centre and Travel Clinic...
Please do come along if you are asthmatic or know someone who is who has to use their blue inhaler regularly. If it is more than 3 times a week then their asthma may not be well controlled.
Our mission is to SAVE LIVES TOGETHER and my ASTHMAZING colleague Garry MacDonald is attending to help us educate and share HOW to get asthma control and live long and healthy lives living with Asthma.
We will presenting to some of our Asthma Champions and sharing stories of their journeys to inspire others on how easy it is when you know HOW?
My colleagues in America have donated to our community a machine that can show you how inflamed your lungs are. This test has been gifted to us and it would cost money to have this done but we can offer as many asthmatics as we need to get the message over about HOW you can manage your asthma by following your treatment plans from your GP nurse or Pharmacist.
Please share so we can have a great turnout and learn together how we can all play our part in saving lives in Asthma from school teachers nursery schools and anywhere else where people look after kids with asthma
Also football teams and sports where you may know a kid that plays but needs to rely on their blue inhaler
I look forward to seeing you there
Berni x
Please contact Rose Duncan, Hub Manager, to book your spot:
07926 503923
rose.duncan@gilvenbankhub.co.uk
Back to news